After being unable to visit their Mushara research site for two years due to COVID-19, the Utopia Scientific team is excited to be returning to Namibia this summer. In addition to catching up on data collection for their long-term research study, the team will gather footage needed to complete their new feature documentary, MY ELEPHANT ODYSSEY. The film tells the story of Dr. Caitlin O'Connell's 30-year journey to uncover the secrets of this desert elephant society ... and the life lessons she learns along the way.
One of the best ways you can help Utopia Scientific carry out its mission right now is to support the making of this film. Donating money allows Caitlin to tell her story the way she wants to tell it, and more importantly, ensures that the film can generate ongoing funding for future elephant research. Please visit the New Documentary page for more information about supporting this important new project.
Utopia Scientific appreciates any level of support that you are able to provide and happily accepts both one-time and monthly gifts. If you're interested in sponsoring a particular elephant, please visit our Elephant Sponsorship page for details.
Your support contributes to our deeper understanding of elephants as a social being, of elephants as a model for several aspects of human medicine (currently relating to hearing, emotion, memory and cognitive ability), and ultimately toward our efforts to enhance elephant conservation measures locally, with potential solutions having global applications.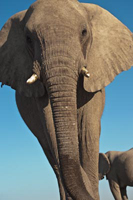 If you would like to donate a monthly amount not specified here, please
email
us or send a check made out to Utopia Scientific to:
P.O. Box 221100
San Diego, CA 92192
Thank you for your generous support!